Pack a shoebox gift for a child in need.
Be part of how God can use a gift-filled shoebox given in Jesus' Name to transform a child, their family, and their community.
Operation Christmas Child is a project of Samaritan's Purse, an international relief organization. Their mission is to provide local partners around the world with shoeboxes filled with small toys, hygiene items, and school supplies as a means of reaching out to children in their own communities with the Good News of Jesus Christ. They ship these simple gifts outside the United States to children affected by war, poverty, natural disaster, famine, and disease; and to children living on Native American reservations in the U.S.
---
How to get involved at CFC!
There are multiple ways to get involved in this great opportunity of sharing the love of Jesus with children and families across the world. Here's a few ideas: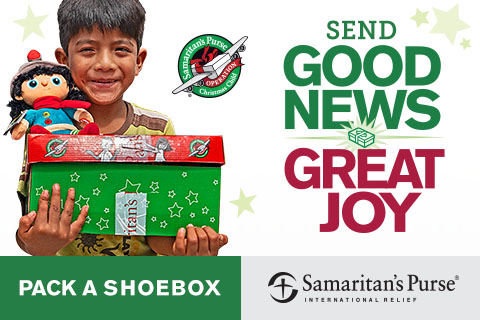 PACK A BOX
Pick up a box(es) in the courtyard and pack one yourself or as a small group. Boxes will be available Thursdays & Sundays in the courtyard starting Oct 30th. They will also be available at the Table Coffee Shop during their normal operating hours. Filled boxes can be returned in the courtyard until Nov 20th.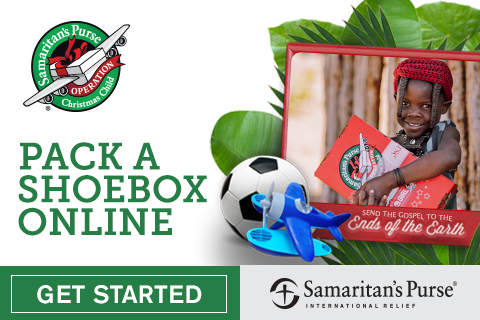 PACK A BOX ONLINE
With just a few clicks, you can pack a
shoebox gift online. You select the items and your gift will be packed and sent it on its way.
Donate items.
Items can be dropped off Wed. evenings and Sun. mornings in bins by the C bldg (the Gym) or click below to donate items from our Amazon Wish List.
Volunteer at the collection center.
CFC is serving as a collection center for the community. The drop-off will be open daily Nov 14th – 21st, hours listed below.
Donate money.
You can donate to the shipping costs for the boxes packed at CFC. Click below and select Operation Christmas Child fund.
National Collection Week is Nov 14th – 21st
Collection Center at CFC
CFC is serving as a collection center for the community. Dates and times for drop off will be posted soon. We will be collecting boxes in front of the College building located at 10403 Old St Augustine Rd, 32257.
Collection Center Hours
11/14: 4-6PM
11/15: 3-5PM
11/16: 6-8PM
11/17: 6-8PM
11/18: 10AM-1PM
11/19: 10AM-1PM
11/20: 1-3PM
11/21: 8-10AM
---
How the boxes get there
The Amazing Journey of a Shoebox Gift Begins with You and Results in Evangelism, Discipleship, and Multiplication. It's no simple task getting boxes to their destination but fun to see some the variety of ways it happens.