Why We Serve
Through serving we glorify God, build relationships and put the love of Christ on display to others. It's a privilege to engage in the work of Christ according to the gifts and passions given to us by the Holy Spirit.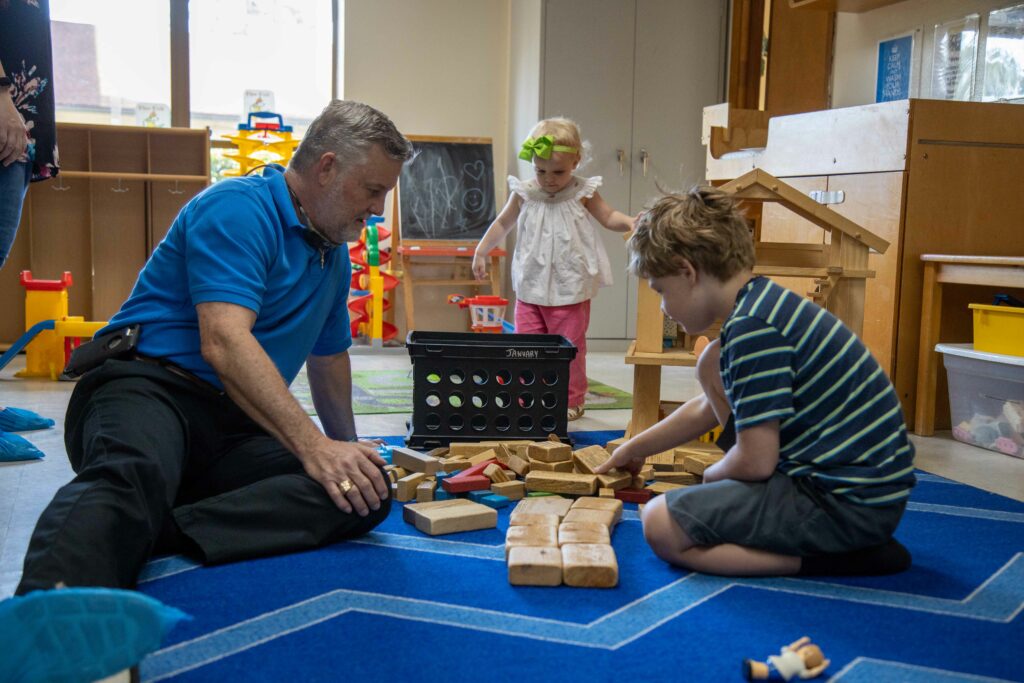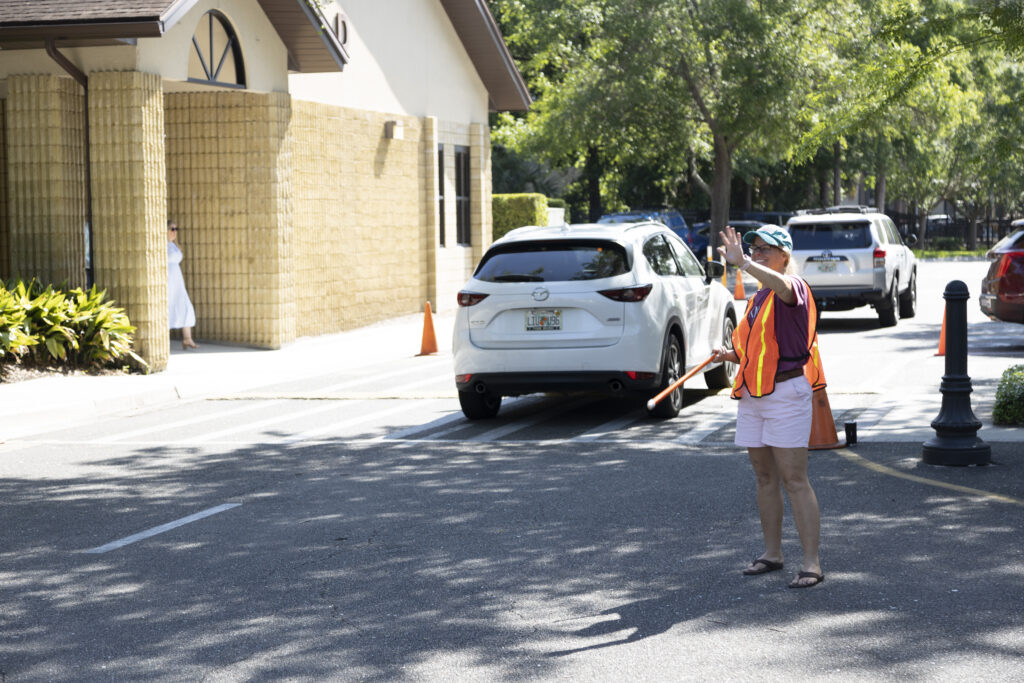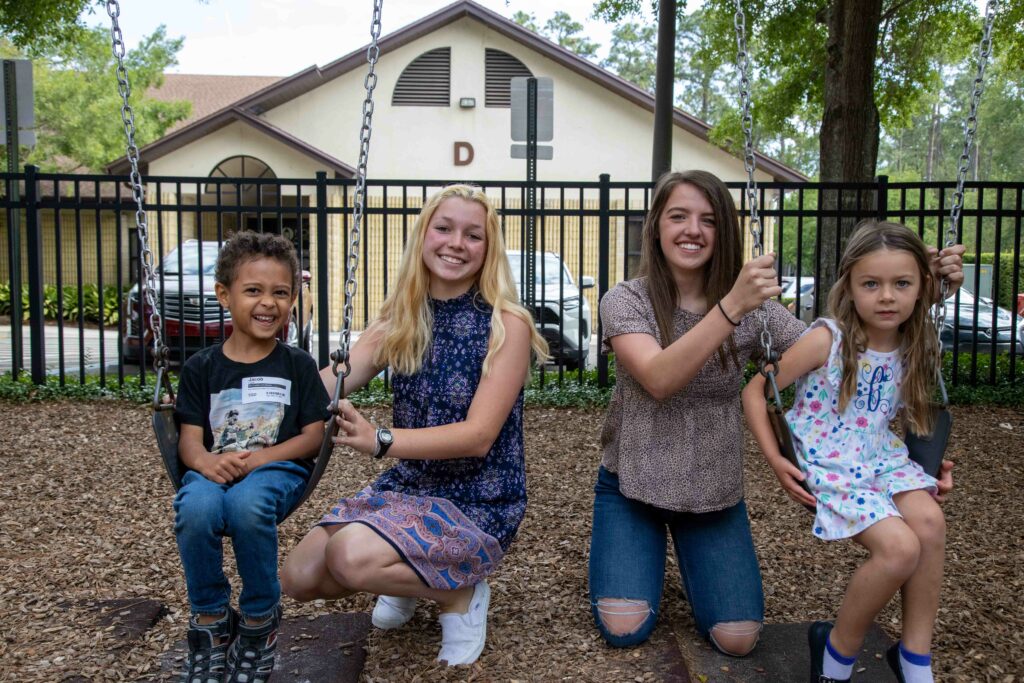 ---
Kid's Ministry
Care for infants through 3 yrs. to allow parents to participate in services: Sundays at 9:00AM or 10:45AM Urgent need for 10:45AM volunteers. You can choose to serve one Sunday a month @ 9:00AM or 10:45AM
Substitutes for all age groups: Sundays at 9:00AM or 10:45AM. One Sunday a month.
Serve one on one with a special needs child 1-2 Sundays a month. Needed for all Sunday services.
We currently need weekly volunteers for: Three Year Olds (9:00AM & 10:45AM) 1st Grade (10:45AM)
Assist families checking out books in the library from 10:15-10:45AM. Once a month, twice a month or every week.
Once a month or every other week commitment to greet our kids being dropped off.
College Ministry
Willingness to attend the college gathering at 7:30PM on Sundays. Have the goal of building relationships and connecting with students.
Connecting Ministry
Lead and facilitate a small group study using questions from Sunday sermons. Establish relationships with group members. Membership required. Twice a month as scheduled. Location may vary.
Visit CFC members and attenders in the hospital, pray with them and report back on their needs as presented. Serve as needed.
Serve where needed 1 Thursday evening a month. Thursdays from 6:45PM to 8:15PM weekly.
Pray for CFC, its people, our nation/world and write notes of encouragement. Currently meeting Tuesdays at 10AM in D6 or Wednesdays at 6:30PM in room E2.
One Sunday a month. Give a warm welcome to those coming to services and other activities.
Assist those attending services to open seating in the auditoriums and serve communion when scheduled. Membership required.One Thursday or Sunday a month.
Prepare the church campus for Sunday morning services and clean up the campus afterwards. Serves two months during the year.
Park and greet those coming to services. One Sunday a month.
The Table is an exciting place to connect to our community as well as with CFC attenders. We currently have openings to serve on Sunday mornings or Monday through Friday. The Side Table, located in our courtyard, is open Sunday mornings serving coffee. Training provided.
Welcome guests on our livestream through online chat.
Global Impact
Choose a CFC Missionary and join their Sending Team to support them on the mission field.
Receive weekly texts regarding CFC-related missions activities and prayer requests. To join text @cfcmi to 81010.
Local Impact
Facilitate conversation with a small group to get acquainted and explore questions about life, faith, God. Weekly commitment on Thursdays for an 11 week session. Training provided.
Team of 6 needed to facilitate homegoing/funeral receptions held at CFC. Responsibilities include working with a team receiving food, set up, hosting and clean up.
Serve on a team to reach out to those residing in skilled nursing facilities in Mandarin. Serve once a month.
Provide meals or meet basic needs of members and others in times of need.
Provide, prepare or serve meals for programs like Alpha, DivorceCare, etc.
Promote Christian citizenship in the marketplace through participation in voting, supporting sanctity of life and fighting to stop human trafficking.
Teaching English to those who have English as a second language, assist teachers with class activities and substitute as needed.
Facilitate video led classes for adults experiencing separation or divorce. Thursday 6-8:30PM for 13 weeks.
Lead sessions for kids ages 5-12 years of age whose parents are divorced or separated. Video instruction, crafts, games and other activities. Teaching ability not required. Thursdays 6-8:30PM for 13 weeks.
Middle School Ministry
Lead and facilitate a group of students in discussion of the Sunday lesson. Establish relationships with the students. Membership required. Sunday mornings at 9:00AM.
Ministering to middle school students by hanging out and developing relationships with them, and supporting the games and teaching times. Female leaders are especially needed. Wednesdays at 6:30PM - 8PM.
Worship
Assist and accompany in leading worship on Sunday mornings, Thursday evenings, and other events. Membership and audition required. Opportunities once a month on either Sunday morning or Thursday evening.
Audio / VIsual
Direct video production on Sunday mornings while coordinating between North & South auditoriums. No experience necessary. One Sunday a month.
Operate audio console in the North, South or Thursday night venues. No experience neccessary. Training provided. One Sunday a month and typically one rehearsal.
Operate projection equipment to display song lyrics, graphics and video presentations on Sunday morning. No experience necessary, training provided. One Sunday a month with one Wednesday night practice.
Operate mounted cameras to capture worship for livestream and online services on Sunday mornings. No experience necessary, training provided. One Sunday a month.
Operate lighting controls and work with the Video Director to coordinate services between two venues. No experience necessary, training provided. One Sunday a month.